Auto Care Express
This auto detailing and car audio dealer wanted to establish their online presence. I list services with descriptions along with detailing prices. They wanted customers to make appointments online for easier service, inform consumers about their pick-up and drop-off service, make online reviews, and access the financing application for car audio purchases. Click logo below for website…

We also started their social media presence on Facebook and Instagram.
2021/2022
[envira-gallery id='2502′]

Furniture Plaza – Gallup, NM
Local furniture and appliance store wanted to put their brand and image online. We gave them a presence using a responsive WordPress website that included their basic information and images. We also included links to connect to the financiers the store works with so visitors can apply for financing online. We also started their business page on Facebook and Instagram.
2021
[envira-gallery id='2495′]
2020
[envira-gallery id='2336′]

Diné Vote Matters 2020 Election
Create Facebook post images to educate and inform the Navajo Nation public of the polling places within their particular counties of voting enrollment.
[envira-gallery id='2394′]
7th Generation Leaders
Develop personalized social media content for two candidates running for public office to be posted on Facebook, Twitter, and Instagram.
Facebook
[envira-gallery id='2403′]
Twitter
[envira-gallery id='2416′]
Instagram
[envira-gallery id='2417′]
Diné College Website and Social Media Projects
Diné College Recruitment Department wanted to push their efforts to social media, primarily Facebook, and I produced several Facebook cover and post images. I also developed several assets for their myDinéCollege Today portal and website.
2020 Social Media and Website Assets
[envira-gallery id='2358′]
2018-2019 Social Media and Website Assets
[envira-gallery id='2329′]
---
Native Tree Services
Native Tree Services of Phoenix, Arizona was new to online marketing and advertising but wanted their business online for prospective customers to view them through their search. I thought it would be best to include everything on a one-page WordPress website, but included a gallery of their services with image examples on a different page. Native Tree Services recently updated its website.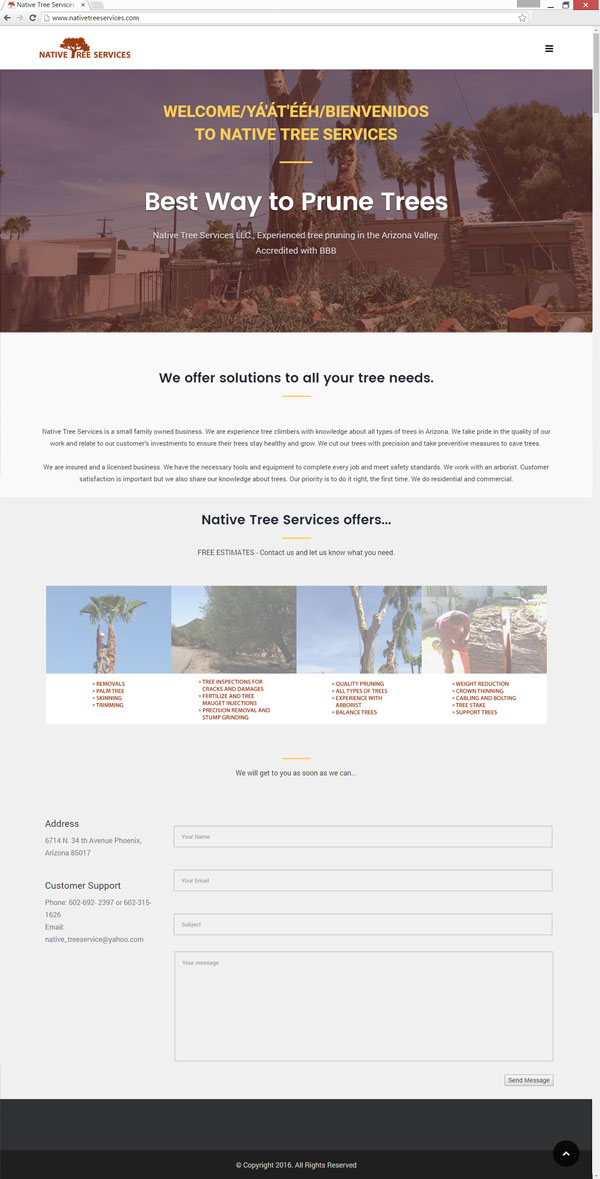 ---
Southwest Touch E-commerce Website
The client was interested in creating an e-commerce website for the various products that their businesses sold. The WordPress site used WooCommerce for sales and there were hundreds of products listed in categories such as Native American jewelry, apparel, footwear, clothing, and blankets. They have since reverted to their former online store at eBay.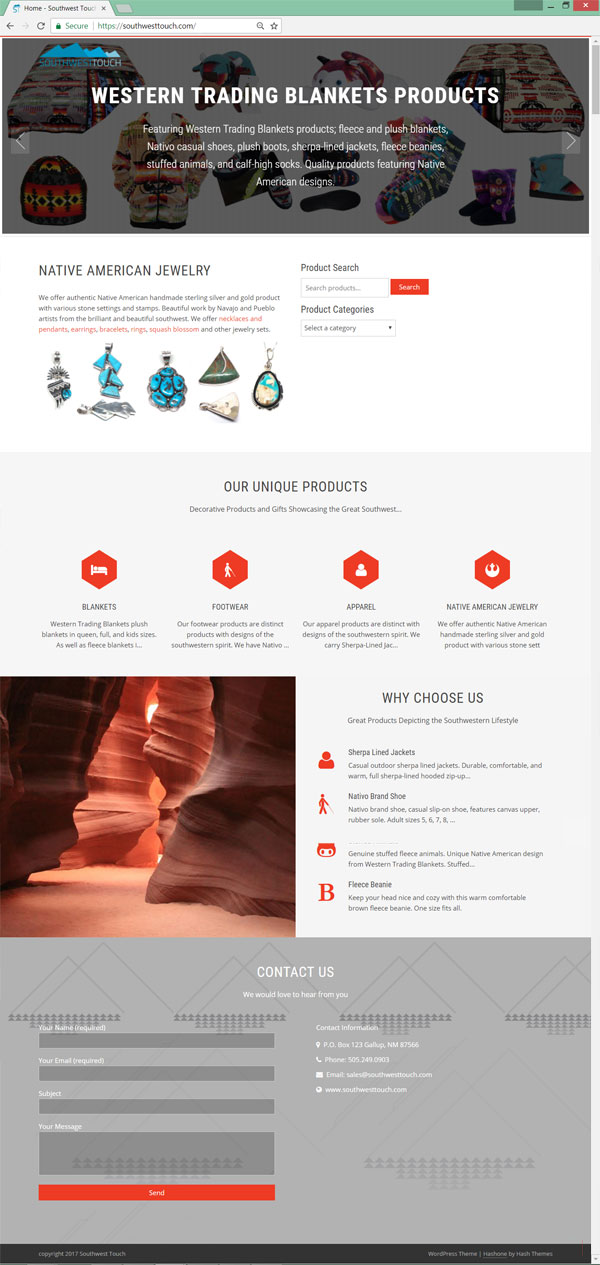 ---
Dilcon Community School Website
Dilcon wanted a modern website that would also attract new students, staff, and teachers. Their recruitment efforts were primarily in newspapers, and college/university newsletters and publications, and on a few job boards. We developed a WordPress website that was modern and user-friendly. The strong presence was sophisticated but the experience was direct and easy to navigate.
The landing page incorporated the "TODAY AT DCS" call-to-action button that led to the day's page which included their daily parent notices, daily event schedule, and lunch menu for the day. We also integrated a directory for staff and faculty, a dedicated month view of the Food Services menus, the latest news blog, a monthly sports and academic events calendar.
The website was operating for a month before the then IT Specialist reverted to their previous website. I provided tutorials to manage the website, but they insisted on managing the old website.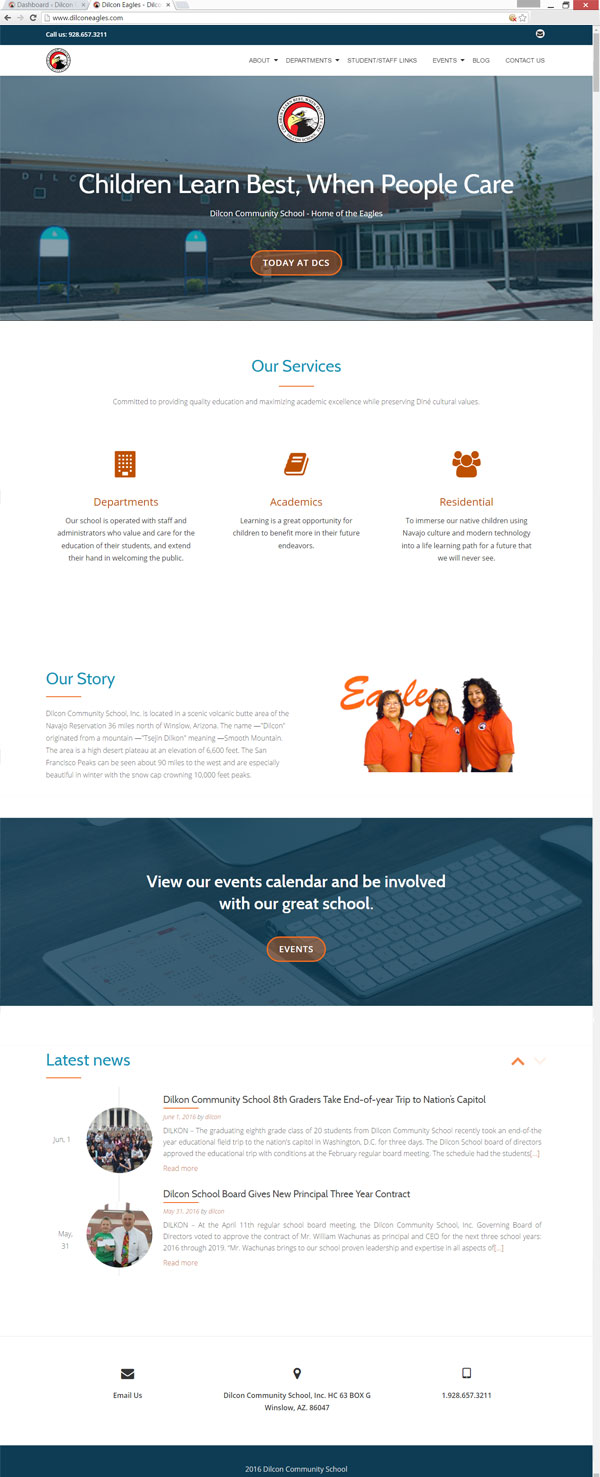 ---
Diné Media Group
Company information and projects. Develop, organize, and manage the working layout.